The Toxic Sandbox: The Truth About Environmental Toxins and Our Children's Health
Mercury. Lead. Pesticides. Plastics. Air pollution. PCBs. How can parents sort through the hype, propaganda, and misinformation — and find out what is and isn't a threat to children's health? Investigative journalist, advocate, and concerned parent Libby McDonald separates the facts from the alarmist myths.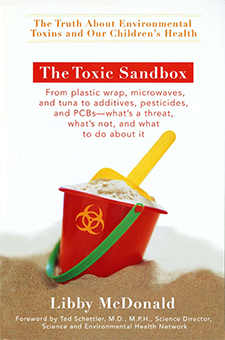 Silica Dust and Silicosis Resources
We've compiled this list of resources to inform you about the hazards of silica dust. Check out our Guide to Safe Sand for more information about sand safety!
Government Resources
Center for Disease Control (CDC): Silica, It's Not Just Dust


Silica is found in many rocks, sand, and construction materials. Silica dust is produced while drilling these materials. You can get a lung disease called silicosis by breathing very small silica particles into your lungs. […] Silicosis damages your lungs and makes it hard to breathe, increases your risk of lung infections, and may lead to heart failure. Silica may also cause cancer. Silicosis Can Be Prevented But Not Cured.

National Institute for Occupational Safety and Health (NIOSH): Crystalline Silica


Silicosis, an irreversible but preventable lung disease, is caused by inhalation of respirable silica dust. Work exposures to silica dust also cause other serious diseases, including lung cancer.

Department of Labor, Occupational Safety and Health Administration (OSHA): Respirable Crystalline Silica Standard


Workers who are exposed to respirable crystalline silica dust are at increased risk of developing serious silica-related diseases. OSHA's standard requires employers to take steps to protect workers from exposure to respirable crystalline silica.

Environmental Protection Agency (EPA), Health Effects of Inhaled Crystalline and Amorphous Silica


Crystalline silica is widely used in industry and has long been recognized as a major occupational hazard, causing disability and deaths among workers in several industries. This is a health risk assessment covering the causes and studies of crystalline silica exposure.

American Lung Association: Learn About Silicosis


Silicosis is an interstitial lung disease caused by breathing in tiny bits of silica, a common mineral found in many types of rock and soil. Over time, exposure to silica particles causes permanent lung scarring, called pulmonary fibrosis.

National Institute of Health (NIH), Non-Occupational Exposure to Silica Dust


Non-occupational exposure to silica dust can be from industrial sources in the vicinity of the industry as well as non-industrial sources. Recently, public concern regarding non-occupational or ambient exposure to crystalline silica has emerged making it important to gather information available on non-occupational exposures to silica dust and non-occupational silicosis.
Media Resources